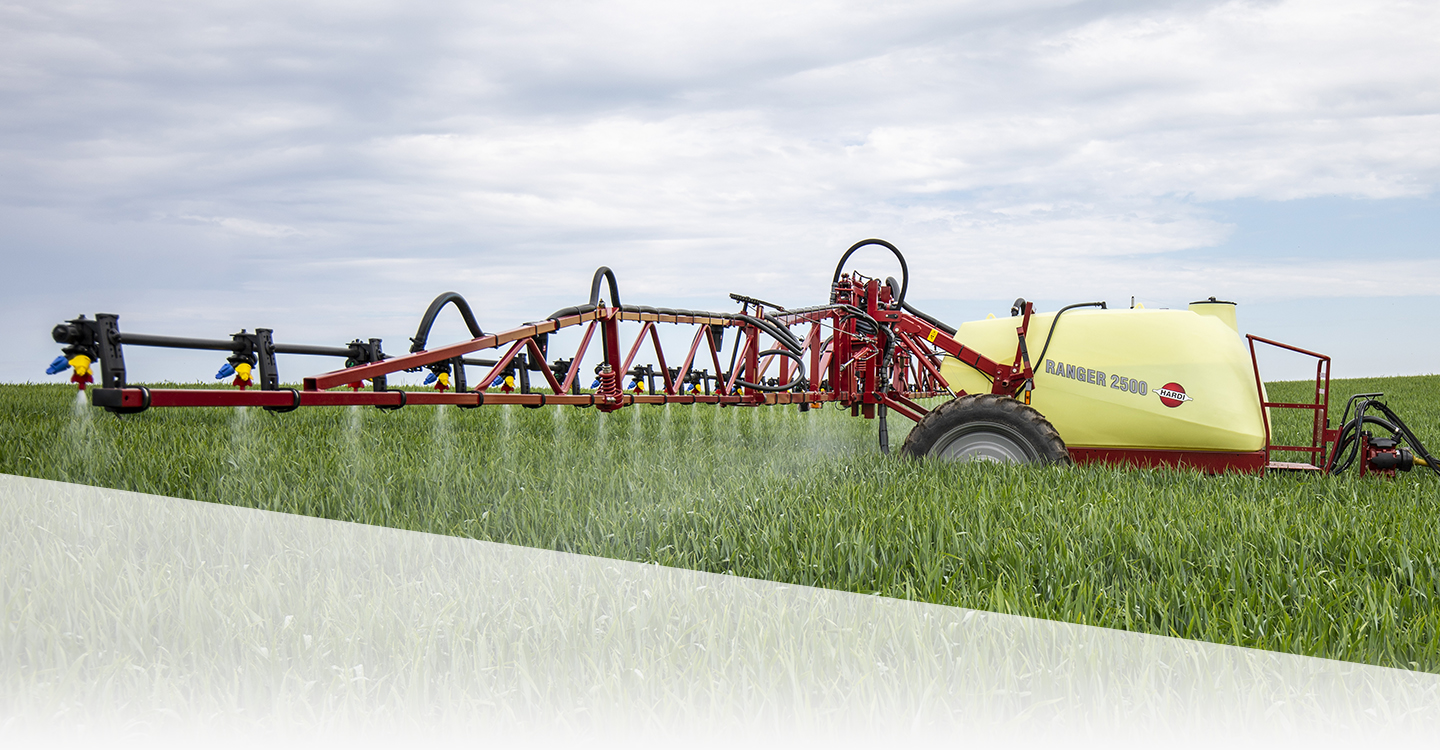 RANGER
Boom Types
EAGLE, PRO, VPZ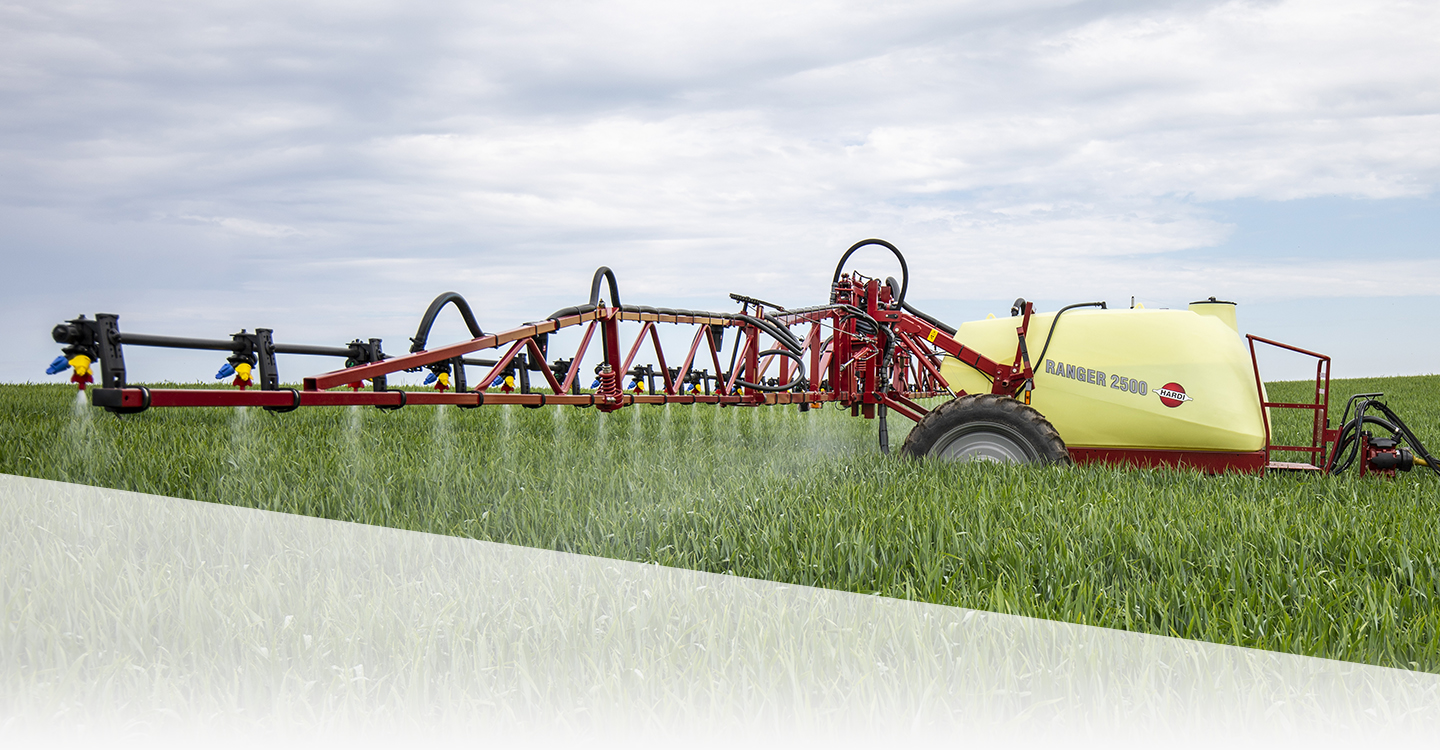 Boom Types
EAGLE, PRO, VPZ
RANGER - Leading in features
Being the smallest in the large HARDI trailer range, the kinship does not fail. The RANGER is designed to meet the request for a simple and reliable trailer. This goal is reached and proven by successful worldwide sales since the introduction in 2006. At the same time RANGER is leading in its class offering a big range of different features.
Booms based on toughly different concepts ensure the right boom for the specific need. Intelligent tank and frame design ensure stability and strength. Unique components guarantee best performance and ultimate durability.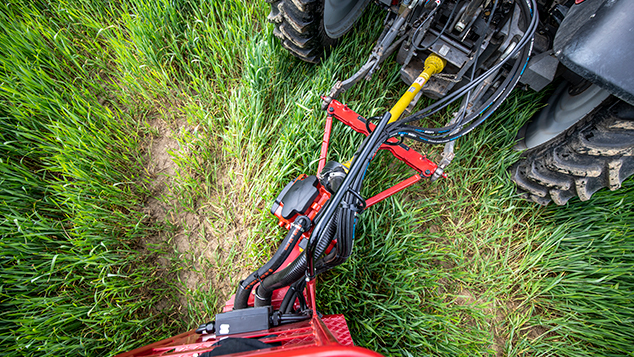 SelfSteer
SelfSteer is coupled on the tractor's 3-point hitch and gives a better tracking on headland.
SelfSteer is a simple mechanical steering system with low maintenance and no operation or setting required by the operator during the spray job.
SelfSteer can be equipped with slope correction. Slope correction is manually operated directly from the tractor's hydraulics and helps the SelfSteer to stay in the tramline also in hilly conditions.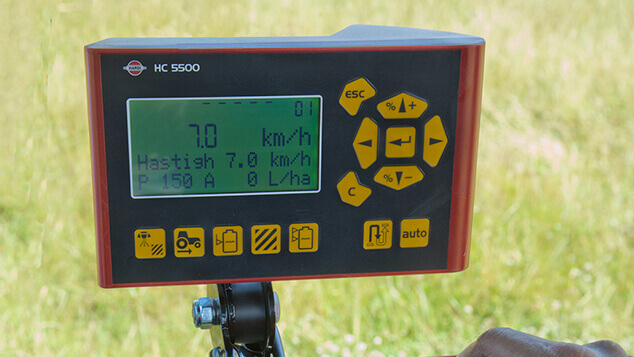 HC 5500 Controller
The HC 5500 is a powerful computer making the spray features easier and safer to use and easily supplies more information when needed. It is the obvious choice where features like IntelliTrack and advanced farming tools are desired. The operator is instantly informed of the operation status and warned if vital parameters like pressure, speed, etc. are incorrect.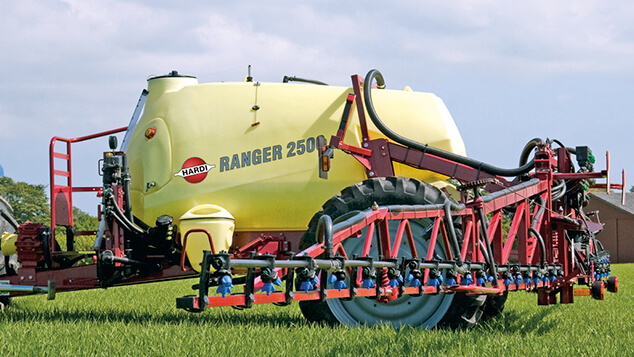 EAGLE 18, 20, 21 and 24 m booms
EAGLE booms feature a rugged two-dimensional structure and a coil spring self-stabilizing trapeze boom suspension. This combination provides for many years of trouble free use even in the toughest field conditions.
A non-directional spring loaded break-away system protects the boom from damage. EAGLE boom is the solution if robustness and high driving speed are required.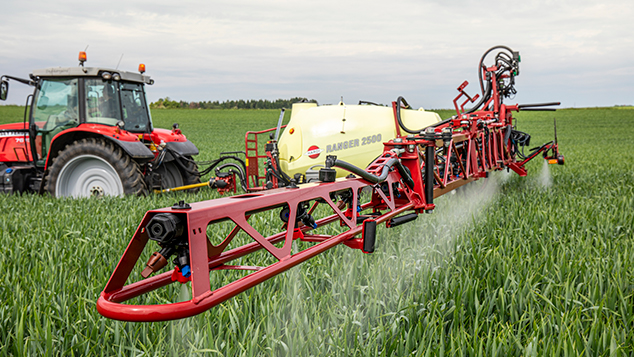 PRO from 12-18 m and
VPZ booms 20 & 21 m
The booms are constructed in steel with a lattice design optimizing weight with the greatest possible strength. The excellent performance of the PRO boom ensures precision spray applications even in the most challenging field conditions.
All functions on the PRO booms can be electro-hydraulically operated, from a compact, conveniently located control panel. The primary controls, those which are most used in the field, are grouped together for ease of use, such as boom height, independent tilting of either boom section and complete boom slanting.
Electro-hydraulic operation is option on VH and standard on VP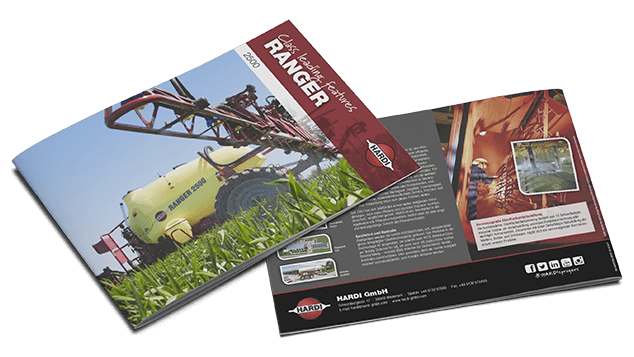 Get the RANGER brochure
See all the information about the RANGER including full specifications, in-depth information and much more!
Download your RANGER brochure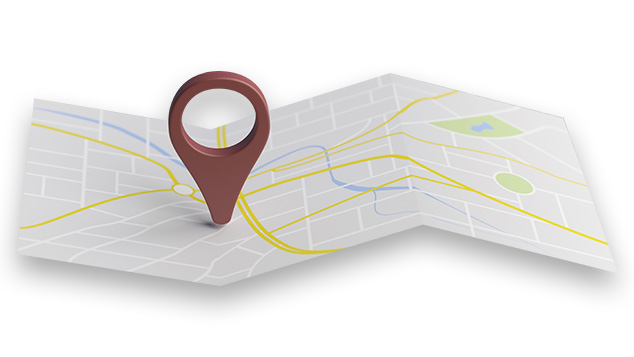 Your local HARDI dealer
HARDI Dealer network of more than 1500 locations around the world ensures quality, service and spareparts to farmers in more than 100 countries.
Find your local HARDI Dealer
Specifications
| Boom | EAGLE | PRO |
| --- | --- | --- |
| Tank, l (net) | 2500 | 2500 |
| Pumps, type – l/min | 1303 - 114 or 363 - 194 | 1303 - 114 or 363 - 194 |
| Booms, m | 18, 20, 21 | 12, 15, 16, 18, 20, 21, 24 |
| Hydraulic outlets needed (Y models) | 1 single + 1 double acting** | 1 single + 1 double acting** |
| Hydraulic outlets needed (Z models) | 1 double acting** | 1 double acting** |
| Weight drawbar (empty tank)*, kg | 200 | 160 |
| Weight axle (empty tank)*, kg | 1,540 | 1,820 |
| Weight total (empty tank)*, kg | 1,740 | 1,980 |
| Total length*, m | 5.40 / 5.53*** | 5.40 / 5,53*** |
| Total height*, m | 2.90 (11.2 × 38) | 3.61 (11.2 × 38) |
| Width with boom in transport position*, m | 2.98 | 2.55 |
| Track width, m | 1.50 – 2.00 | 1.50 – 2.00 |
| Length draw to axle, m | 3.95 | 3.95 |
| Ground clearance, m | 0.70 (11.2 × 38) | 0.70 (11.2 × 38) |
| RinseTank, l | 250 | 250 |
* Measurements: EAGLE 18 m, PRO 24 m
**Extra outlets needed for Slant on Y version, and for Slope correction
*** No steer / steer
Get access to our brochures
by filling out the form below