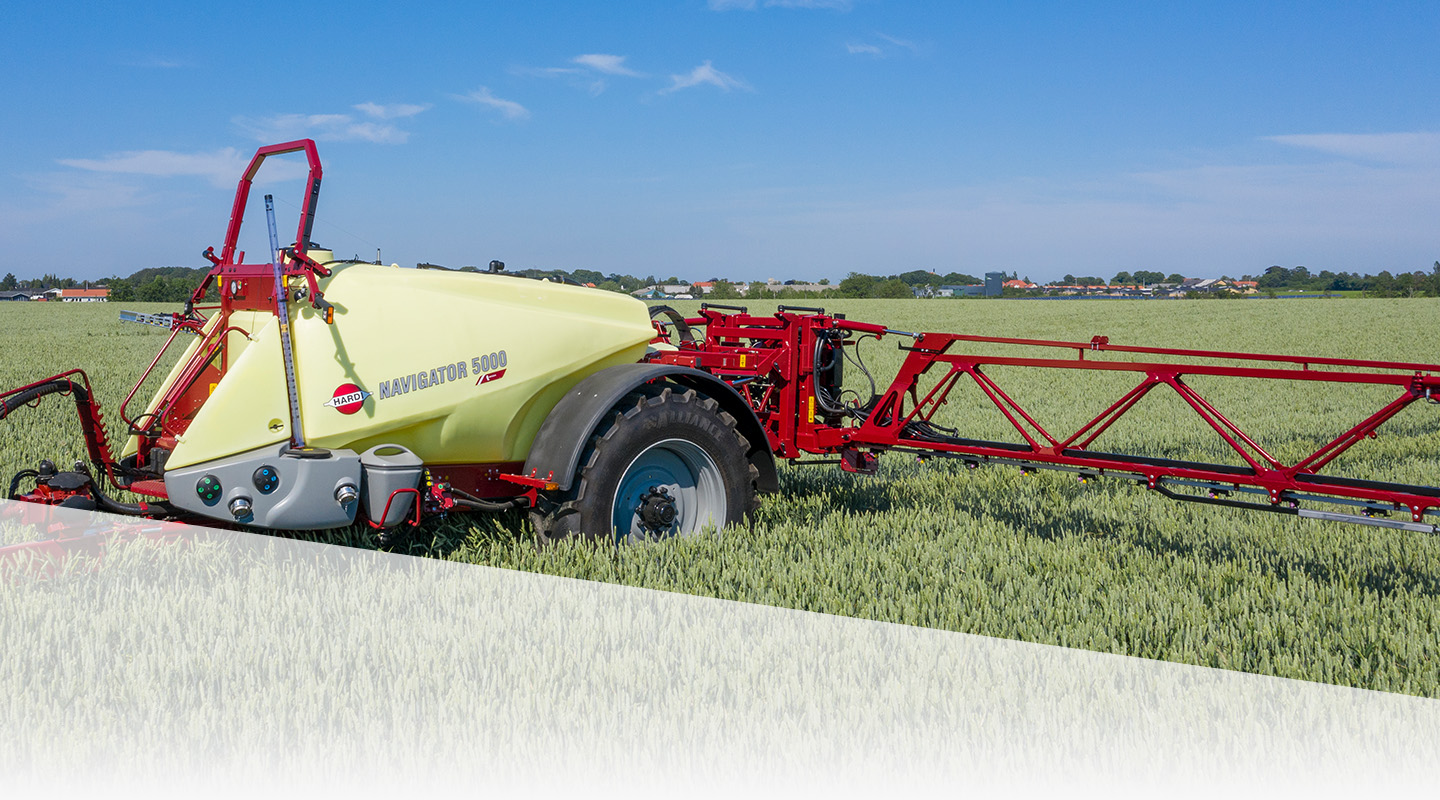 NAVIGATOR
Tank Capacity
3000 / 4000 / 5000 / 6000 l
Boom Types
DELTA, DELTA FORCE, EAGLE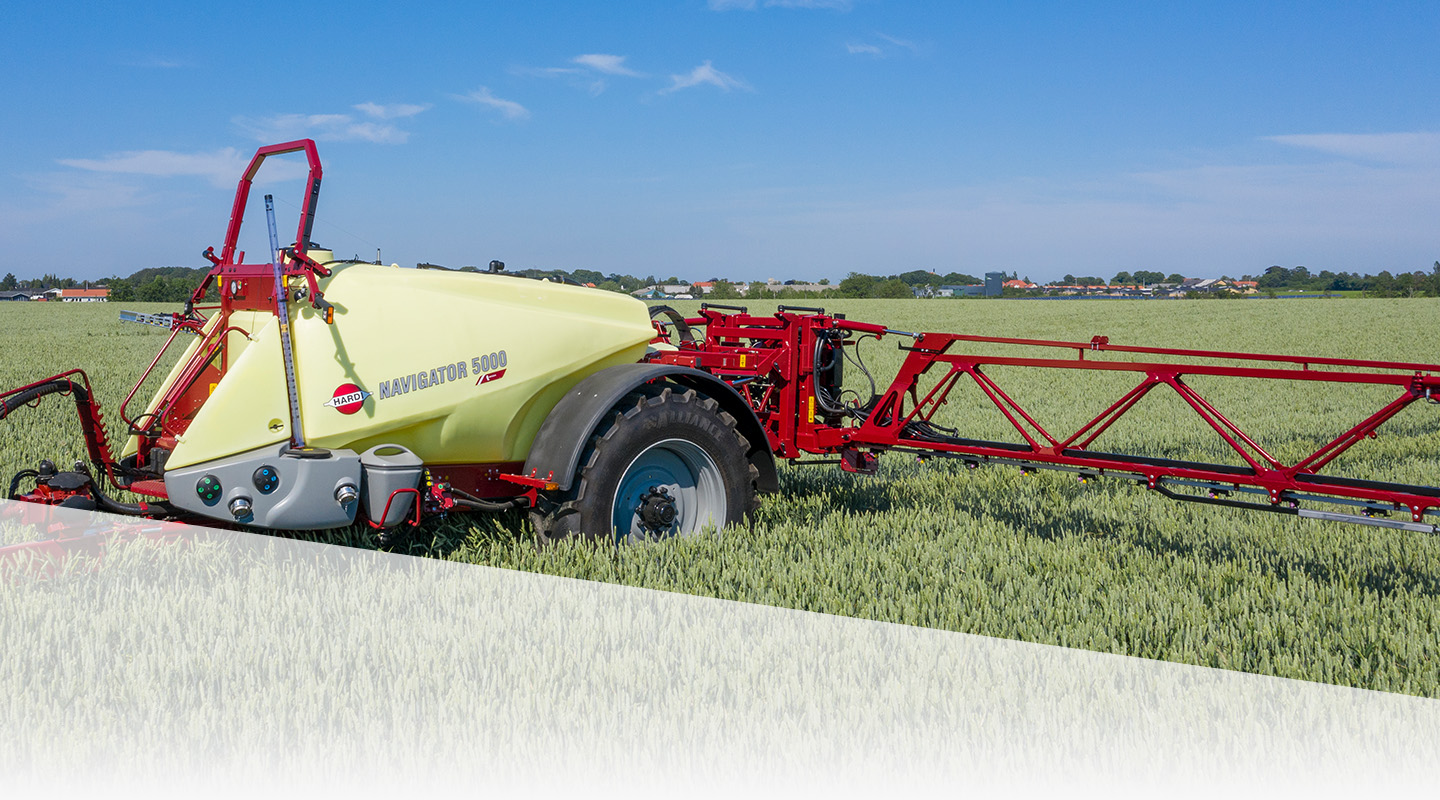 Tank Capacity
3000 / 4000 / 5000 / 6000 l
Boom Types
DELTA, DELTA FORCE, EAGLE
AutoWash – Ultimate cleaning process
For an easier, faster and more efficient rinse process – we offer the automated AutoWash. The SmartValves are operated automatically from the tractor cabin and the operator avoids contamination from the equipment and the sprayed crop, while three rinse programmes ease the cleaning. The process is done whilst in the field, where multiple rinse actions are made, reducing the residual concentration best level in class – with only 400 litres of clean water.
Simple and user-friendly operation
Only choose cleaning program, rest is automatic
Operator and tractor cabin are not contaminated
Time-saving as the process is controlled from cabin
Pesticide cross-contamination is avoided
Only available on NAVIGATOR i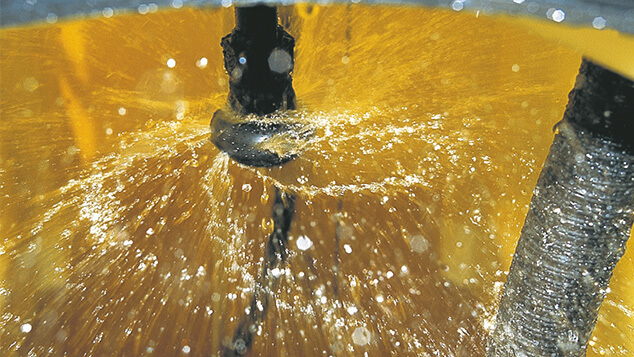 AutoFill – Fast and accurate filling
To ease the filling process and prevent overfilling, we offer AutoFill. The operator sets the fill volume, connects the hose and starts the fill via the FluidBox. The filling process will automatically stop when the demanded volume is reached.
Time saving so other tasks can be done
Choice between maximum contents or volume added
Start/Stop control is at the FluidBox in WorkZone
Prevents overfilling
Agitation is reduced automatically for maximum fill effect
Only available on NAVIGATOR i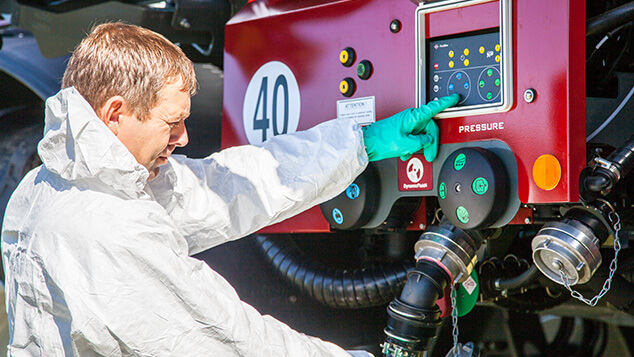 AutoAgitation – Best agitation performance
To maximize the agitation without foaming and minimise tank residues – we offer the fully automatic AutoAgitation. When filling, AutoAgitation ensures maximum FastFiller capacity – while a manual override is always possible from the FluidBox.
Maximizes agitation without foaming
Minimizes tank residues when the spray job is finished
Automatic tank contents readout displayed on the terminal
Only available on NAVIGATOR i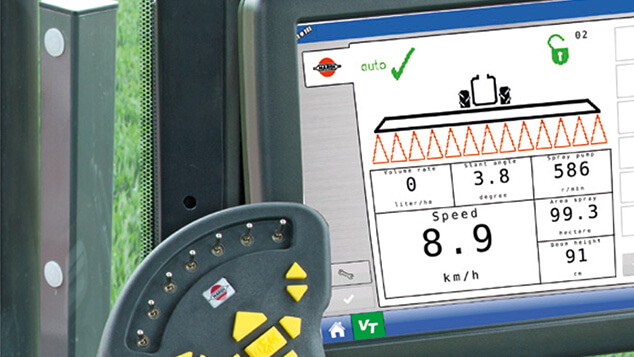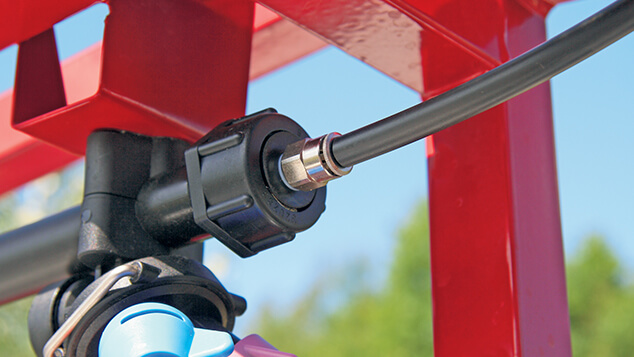 PrimeFlow – Pressure circulation
PrimeFlow circulates and primes the boom before the actual spraying and is controlled by an ON/OFF motor at each nozzle body. Open/close action is instant.
No untreated areas at spray start
HARDI PENTALET 5-nozzle holders as standard
No chemical sedimentation in the spray lines
Flush of boom lines is possible without spraying on the ground
Dynamic setup of sections
Only available on NAVIGATOR i
HARDI SmartCom – ISOBUS platform
The HARDI SmartCom offers the user a full ISOBUS experience, meaning easy connection to tractors and controllers. The faster processor will also offer you a more accurate and responsive liquid regulation system as well as the ultimate steering system thanks to faster response times.
Full ISOBUS for easy connection
Quick and easy diagnostics with HARDI ServiceTool
Faster and more precise regulation system
Ultimate steering precision
Prepared for cloud connections
Only available on NAVIGATOR i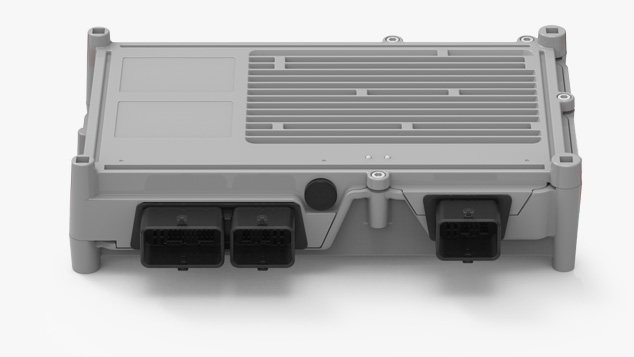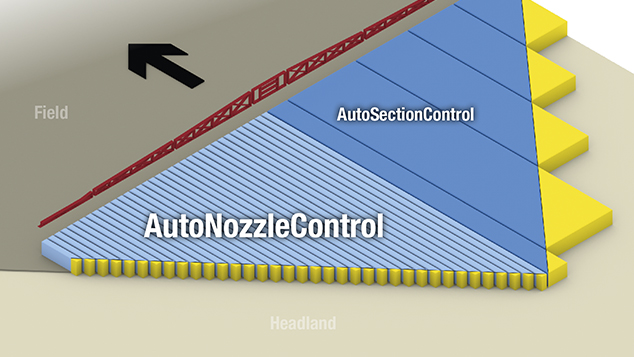 AutoNozzleControl
Get full control of your spray job with the automated nozzle on/off feature AutoNozzleControl. Thanks to the PrimeFlow system, you will receive the highest level of precision, due to the exact control of each nozzle.
Every nozzle is controlled automatically
Minimize double sprayed area thereby saving up to 10 % chemicals
Avoid crop damage due to double spraying
Avoid spraying in critical areas by switching off outer nozzles
In auto mode the sprayer works with 50 cm sections
Turning on and off of nozzle when turning in headland
Only available on NAVIGATOR i
HC 5500
The HARDI Controller HC 5500 is the choice where IntelliTrack steering and advanced farming tools are desired. It can also automate functions like the Foam Marker. Furthermore, the operator is instantly informed of operation status and warned when vital parameters like pressure, speed, etc are not correct.
It is advanced farming, ready with up to 98 registers and the possibility of connection to a site-specific application map or a remote sensor as well as a 12 volt printer.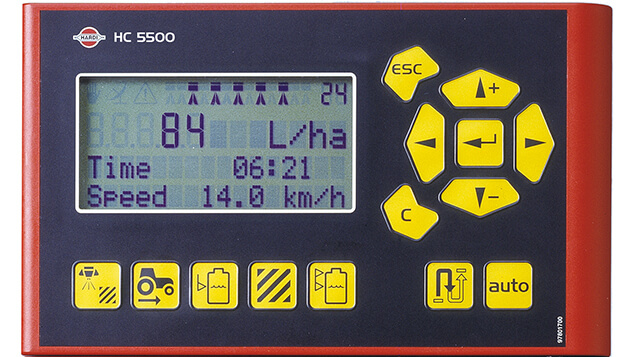 HC 6500
Controller designed for comfort and easy operation
The HC 6500 is designed by HARDI and is designated only for spraying. Multi-purpose computers often compromise on details as they do not have the specifics a sprayer specialist holds.
The more complex a product is, the simpler it should be to use. A confused operator cannot take the full advantage of a complex product. All HARDI intelligent functions can be operated from the HC 6500.
AutoSlant, AutoHeight and AutoTerrain can be mounted together with HC 6500 and operate independently through autonomous control boxes.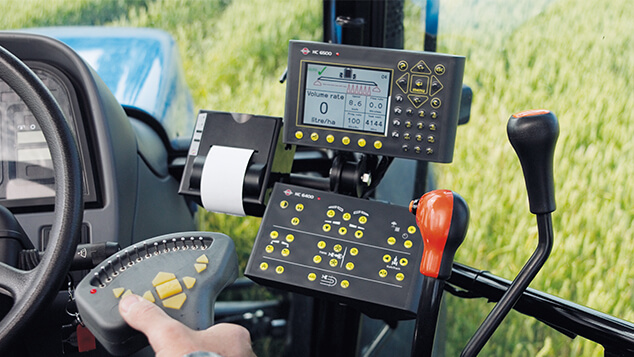 HC 8600 / HC 9600
Touch the future" with integrated electronics – HC 8600/HC 9600 All the main spray functions are at your fingertips. The multi-function joystick in conjunction with the 12.1" touchscreen provides the HC 9600 user with the highest level of performance available.
The HC 8600/HC 9600 controller provides growers with a powerful and full featured precision farming tool. Features include guidance, data logging, application reports, GPS controlled spraying, automated steering and more!
ISOBUS compatibility
The HC 8600/HC 9600 offers compatibility with the ISO 11783 (ISOBUS) Universal Terminal Standard. So the HC 8600/HC 9600 could also operate as HC 6500.
The complete integration of all important information on one work screen is an important criteria. On the HC 8500/HC 9500 work screen the driver can operate GeoSteer, AutoTerrain/ AutoHeight/AutoSlant, AutoSection- Control, as well as guidance and dosing.
Intuitive touchscreens
A high-definition, 8.4 / 12.1-inch, touchscreen features intuitive tools and real time mapping, including variety map integration so you can view yield results for crop varieties in real time.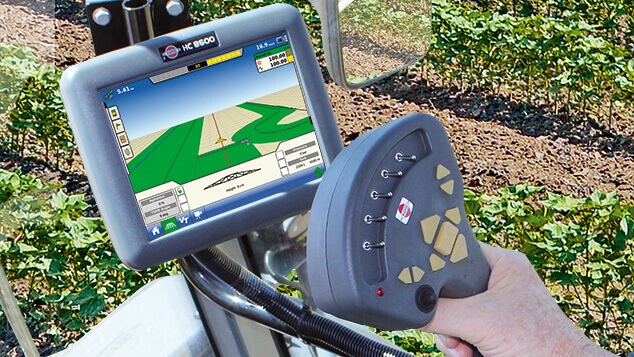 AutoSectionControl
AutoSectionControl (ASC) is a fully automatic system that opens and closes boom sections as necessary. ASC manages the sections when driving over sprayed area like into a headland or wedge or around obstacles like trees etc.
HC 8600/HC 9600 have ASC as a standard feature and only need to be connected to a GPS receiver. When spraying, the ASC automatically records the area sprayed. In a typical situation where the headland is sprayed first, ASC will now automatically close the sections if the operator passes over a sprayed area.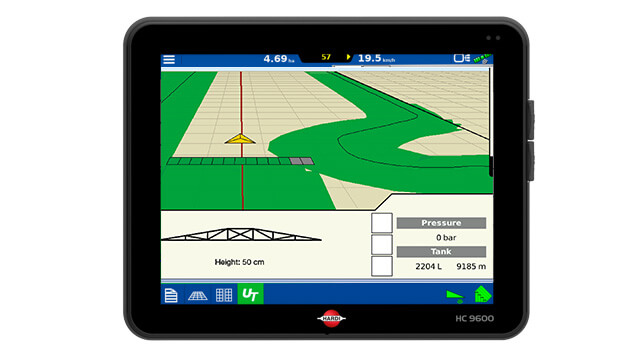 HARDI ISOBUS
HARDI NAVIGATOR, COMMANDER, ALPHA evo and SARITOR can be operated with a virtual ISOBUS terminal. The customer can order an intelligent HARDI sprayer and use the intelligent functions like AutoWash and PrimeFlow direct from his own ISOBUS terminal.