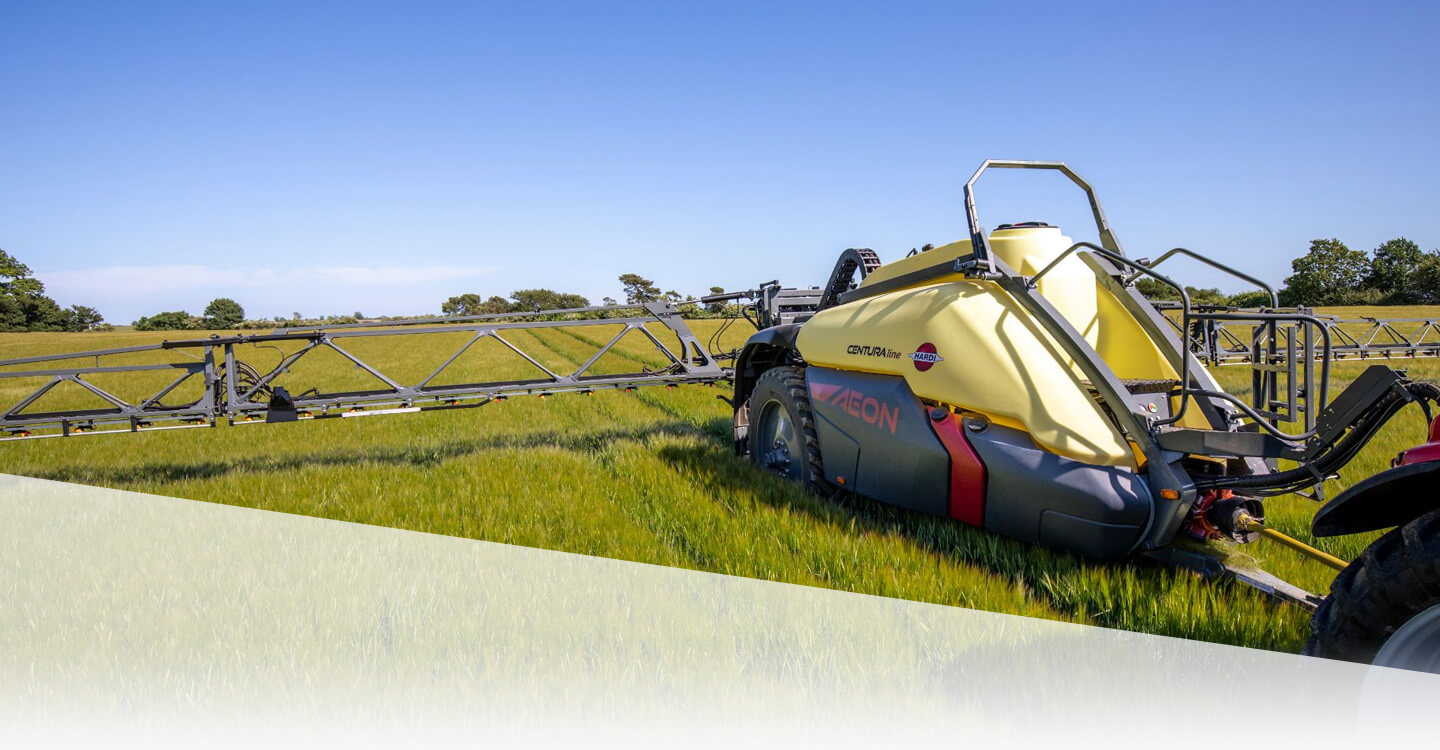 AEON
Tank Capacity
4200 / 5200 l
Boom Types
DELTA FORCE, TWIN FORCE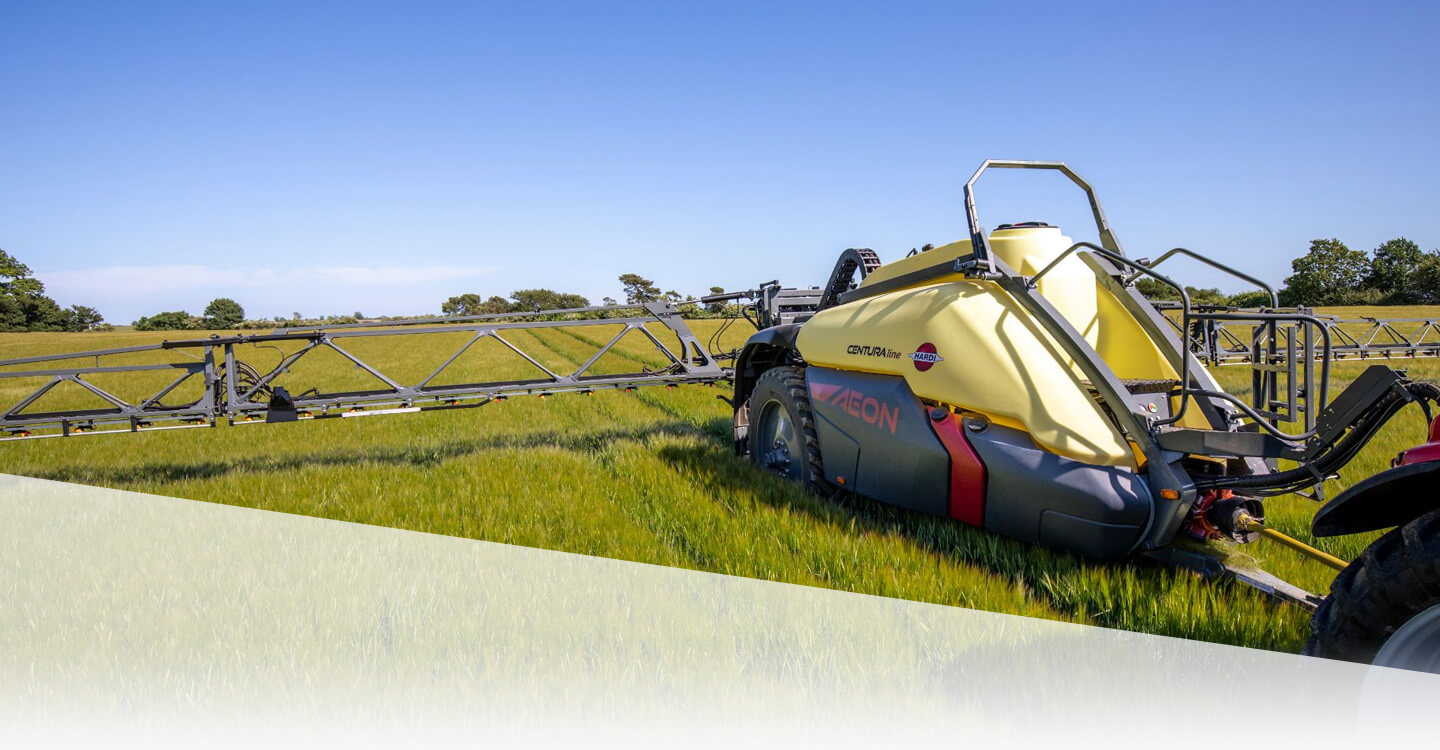 Tank Capacity
4200 / 5200 l
Boom Types
DELTA FORCE, TWIN FORCE
The TechZone – easy to control and service
The TechZone, on the right side of the sprayer, gives easy access to the isolated spray circuit, its large-dimension filters and the second pump.
FlexCapacity pump
This extra pump boosts the combined flow capacity to 450 l/min, allowing for high application rates without impairing agitation. Similar to the main pump, it is a HARDI trademark diaphragm pump – robust and easy to service.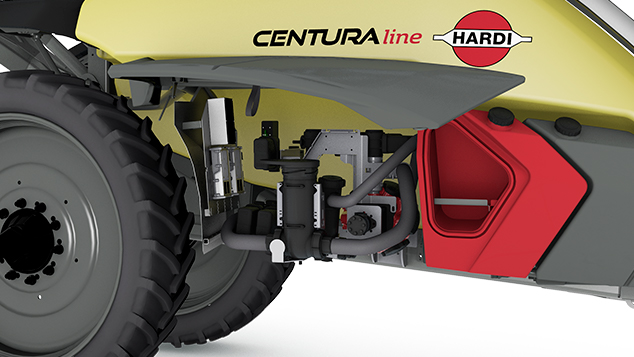 Large-dimension filters
The HARDI EasyClean filter is a high-capacity suction filter.
The HARDI CycloneFilter is a unique, self-cleaning pressure filter, providing high efficiency without limiting flow. Combined with standard 22 mm stainless steel boom lines, it ensures optimum spray distribution at high application speeds or volumes.
The WorkZone – Intuitive operation
The WorkZone on the left hand side of the sprayer provides the operator with safe control of all sprayer functions – filling, mixing, agitation and spraying.
Comfortable, large and secure WorkZone
FluidBox 8000 groups main sprayer functions on one screen
TurboFiller with integrated work table
Waterproof 40-litre SafetyLocker
FluidBox 8000
The intelligent FluidBox 8000 gives quick and direct access to common operations on one screen, including AutoFill, AutoAgitation and AutoWash.
Intuitive colour interface
Simplified, integrated calculator for sprayer preparation
On/Off and emergency stop for all functions
Nozzle test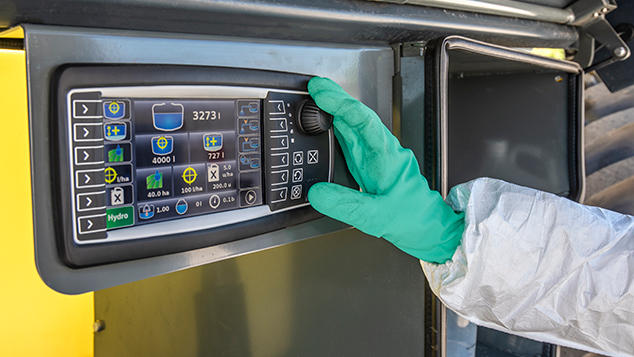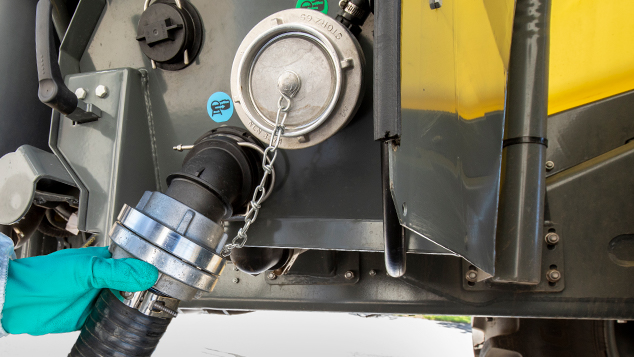 AutoFill – Fast and accurate filling
Set the volume, connect the hose – leave the rest to AutoFill, allowing the operator to carry out other tasks simultaneously.
No overfilling – AutoFill stops at programmed volume
Choose between maximum content or volume added
Start/stop control at the FluidBox in the WorkZone
Agitation is reduced automatically for maximum fill effect
AutoAgitation – Agitation at its best
Fully automatic agitation for minimal filling time.
Ensures even agitation as the tank empties
Maximum agitation without foaming
Minimal tank residues upon completion of spray job
Automatic readouts of tank contents on terminal
Manual override available through the FluidBox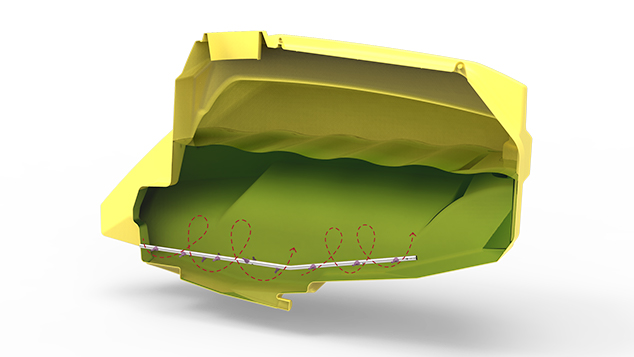 AutoWash – Easy, accurate and safe cleaning
Reduces residues to best in class – using only 400 litres of rinsing water.
Operated from the tractor cabin
No contamination of operator and tractor cabin
No pesticide cross-contamination
Choose one of three rinse programme – the rest is automatic
In-field washing using multiple rinse operations
Five rotating rinse nozzles in main tank for a thorough wash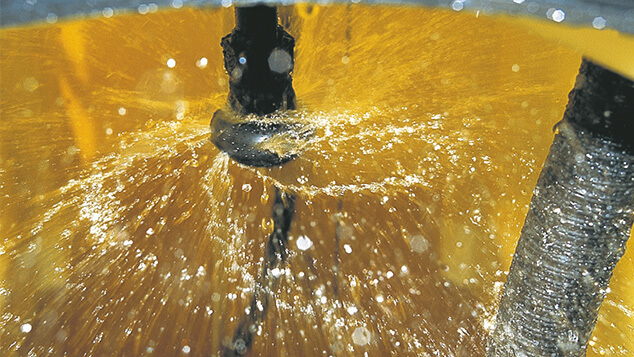 TurboFiller – Fast and efficient mixing
The shape of the hopper and its special TurboDeflector at the bottom create a cyclone effect to incorporate even the most difficult-to-mix com - pounds.
Rapid filling and transfer into main tank
High mixing capacity for powders and liquids
35 l capacity with stainless steel contents indicator
Hopper with integrated table at work height
Built-in rinsing system – 2 rinse nozzles and 1 external lance