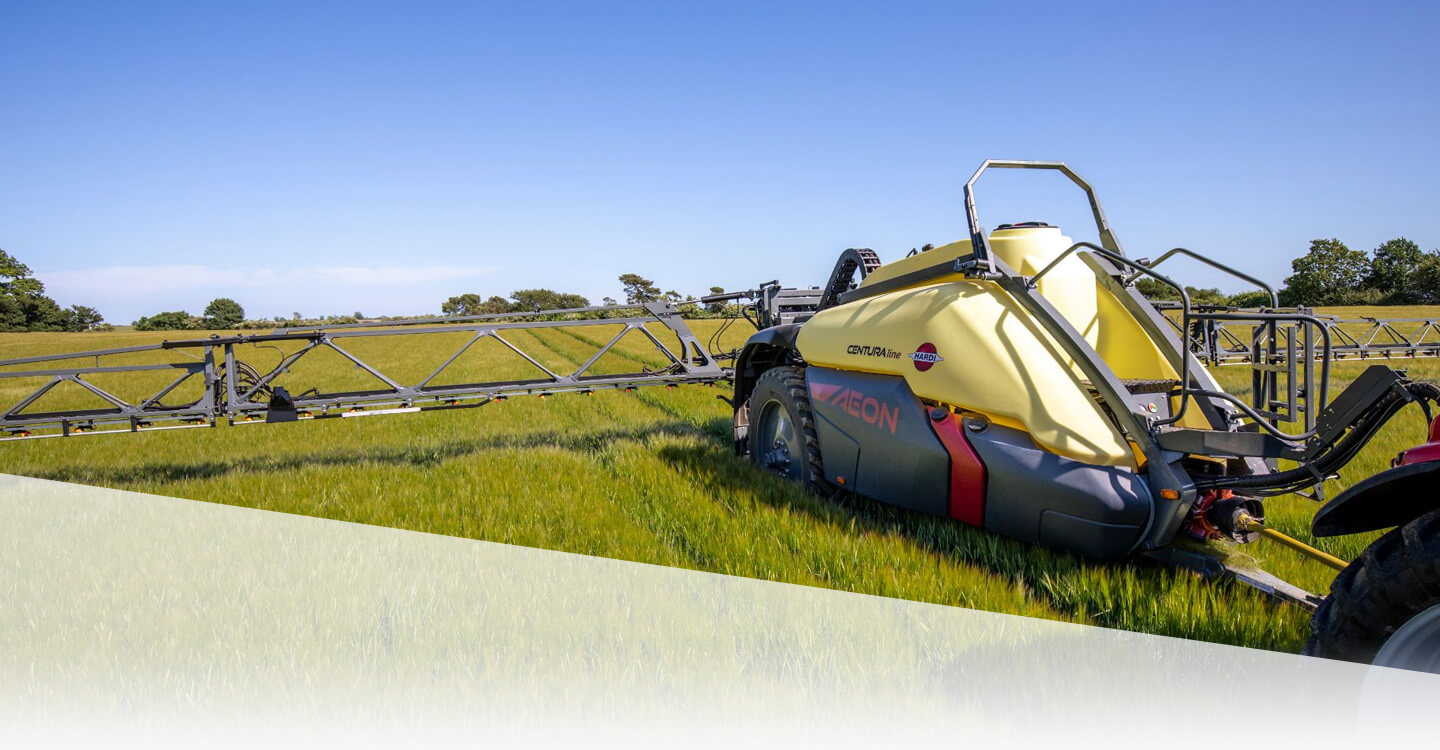 AEON
Tank Capacity
4200 / 5200 l
Boom Types
DELTA FORCE, TWIN FORCE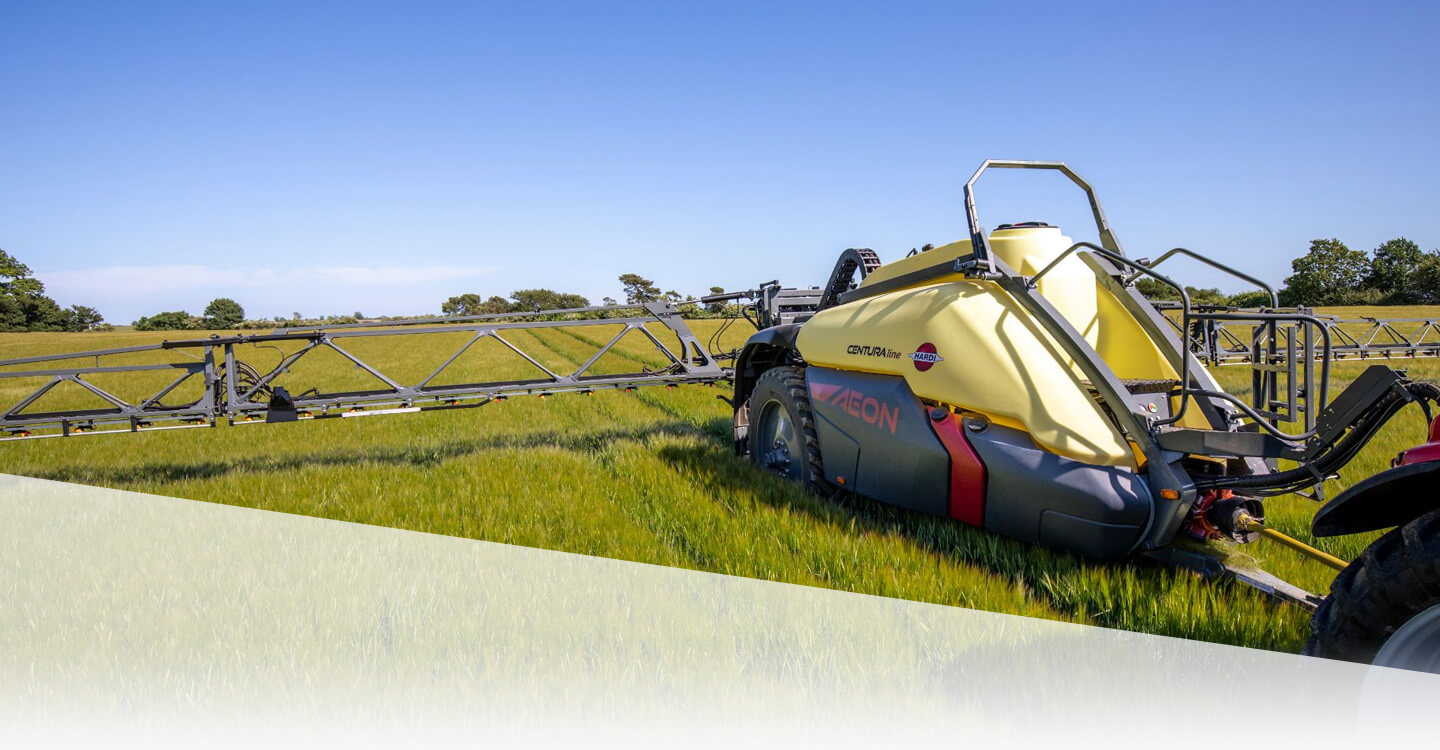 Tank Capacity
4200 / 5200 l
Boom Types
DELTA FORCE, TWIN FORCE
The future of crop care
The all-new HARDI AEON CENTURAline is a high-tech sprayer guided by the principles of lean farming – to do more with less. We have used the latest technology and the newest automation solutions to allow farmers to improve productivity while reducing waste. The AEON CENTURAline sets a new benchmark for increasing food production in the face of growing environmental and climatic concerns.
Our starting point is always the farmer. The AEON CENTURAline is designed with user-friendliness and safety in mind. It is built to last, but without compromising on design. It is a dazzling machine with a sleek and dynamic outline that conceals a newly developed chassis and a unique tank design for maximum stability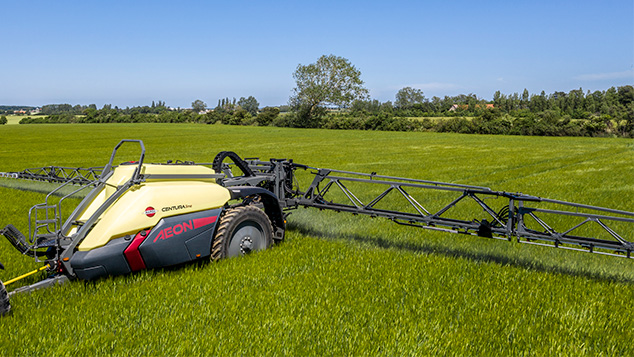 Presenting the latest in sprayer innovation
The AEON CENTURAline offers perfect tracking, full suspension and a fully remote-operated spraying system. Combine this with incredibly fast fluid regulation, pressurised boom circulation and an exceptional boom management system, and the result is outstanding boom stability, spraying precision and drift control – which translate into real savings for the farmer.
In the quest to put the right dose in the right place at the right time, we are driven by data, and the AEON CENTURAline offers cutting-edge connectivity for field mapping and remote diagnostics. With an AEON CENTURAline you are prepared for the future!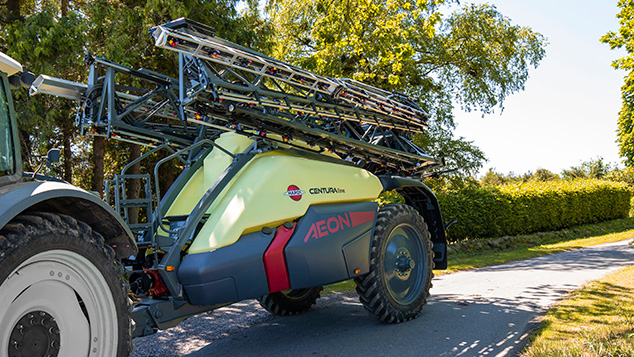 Maximum stability
With the AEON CENTURAline, we have outdone ourselves in the search for maximum driving stability.
We have set out to refine the shape of the tanks with an objective to prevent sloshing liquid from disturbing the machine's balance while on the move. The result is a main tank with a wedge-shaped front. The novel design also guarantees complete tank emptying, even in hilly terrain.
Perfect weight distribution is achieved with dual RinseTanks fitted on both sides of the sprayer towards its front to keep weight on the drawbar. By transferring weight to the tractor, better traction is achieved towards the end of spraying.
Add to this the sprayer's excellent width-to-length ratio, and longer booms will never be a problem. The AEON CENTURAline offers fantastic boom stability, even at high speed.
With its perfectly placed low centre of gravity and strong chassis, the AEON CENTURAline will stand every test of durability.
ComfortTrack wheel steering
ComfortTrack wheel steering Equipped with ComfortTrack wheel steering, the AEON CENTURAline will always track the tractor's rear wheels, even on tight turns, eliminating excess crop damage. The sprayer's compact design allows for a large steering angle of 27°. The combination of ComfortTrack and full suspension secures a small turning radius of only 6.3 m along with perfect boom position, also when turning on the headland.
Large steering angle
Automatic or manual operation
Effective regardless of tractor speed
Reverse gear with automatic re-centering
Steering possible with boom in transport position
ComfortTrack turns the wheels, not the axle, and the long mudguards follow the wheels, keeping the nozzles clean in dry and wet conditions.
The AEON CENTURAline allows for large-diameter wheels with big footprints for better load distribution and less soil compaction. With 520/85R46 tyres, the axle clearance is 81 cm.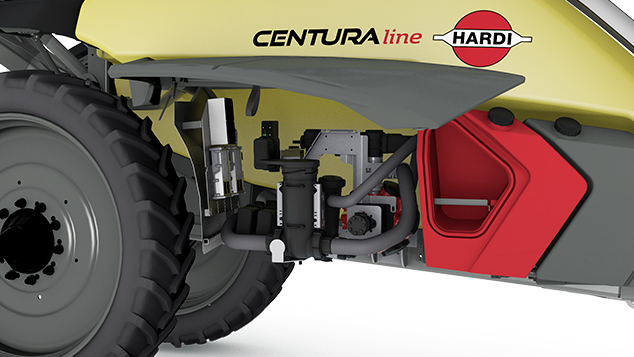 Farmer focus
Your working companion for all conditions
The AEON CENTURAline has been developed with the operator in mind. No detail has been left to chance in the search to optimise user-friendliness and operator safety. With its sleek design, smooth surfaces and covers to protect all vital parts, the AEON CENTURAline is your working companion for all conditions.
Both the TechZone and the WorkZone have protective covers that swing upwards to provide the operator with an illuminated, covered space for work in all kinds of weather.
AutoSelect Duo – higher flexiblity
Increase work rates with automatic nozzle change on the go in response to changing field and weather conditions – all operated from the cabin.
Three combinations of two sets of nozzles
Applicable for speed variations of e.g. 8-15 km/h depending on nozzle type and pressure
Change application rate at constant speed and pressure
Maintain optimal droplet size
Particularly useful at the headland or other slowdown zones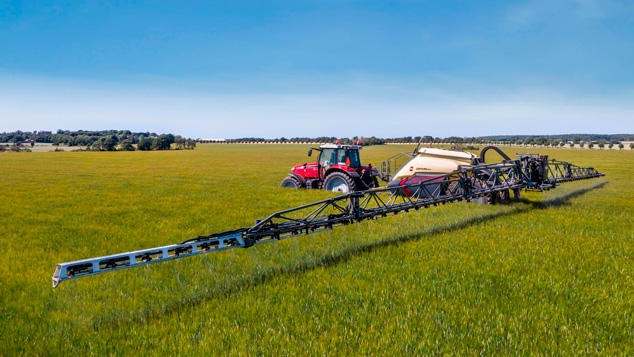 DELTA FORCE – A big boom for big jobs
Flexibility, productivity and performance
The DELTA FORCE is HARDI's newest family of conventional booms. It is a functional boom designed with future farming requirements in mind
Wide in field – compact on the road
The DELTA FORCE is a large boom of 24 to 39 m with a unique three-dimensional design and features meant for perfect boom control at high speed. HARDI's boom-folding system allows the operator to spray at different widths – with or without folding the last section. Despite its width, the DELTA FORCE is compact in transport and storage. It folds into an elegant 2.55 m.
Read more about DELTA FORCE on HARDI AEON
TWIN FORCE – A boom for ultimate capacity
Save time, money and environmental impact
The TWIN FORCE boom employs the world's best system for spray control. Using an adjustable curtain of air to entrain and direct the spray, TWIN FORCE can reduce drift by an astounding 80%. The result is close to no loss of plant protection products or contamination of adjacent areas.
Air-assisted spraying also guarantees better spray penetration and coverage than conventional applications. All this translates into real savings for the farmer of at least 50% on water usage and up to 30% on plant protection products.
TWIN FORCE gets the job done faster. Efficient drift control means more spraying days – up from 31 to 76 days in one study – as well as higher application speeds and fewer filling stops. The result is higher sprayer productivity. In fact, TWIN FORCE will increase your spray capacity by up to 100%.
Read more about TWIN FORCE on HARDI AEON