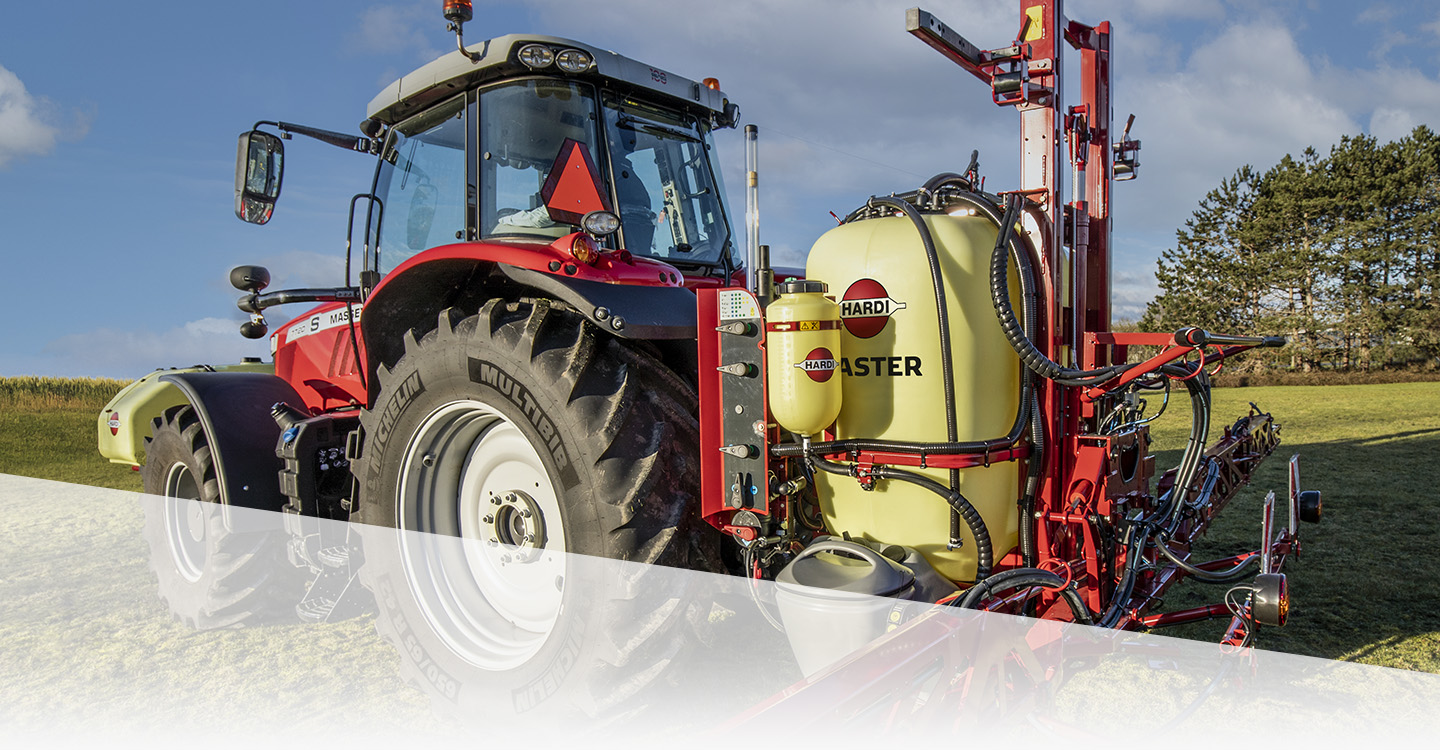 MASTER
Tank Capacity
1000 / 1200 / 1500 / 1800 l
Boom Types
PRO, HYS, HYS AIR STREAM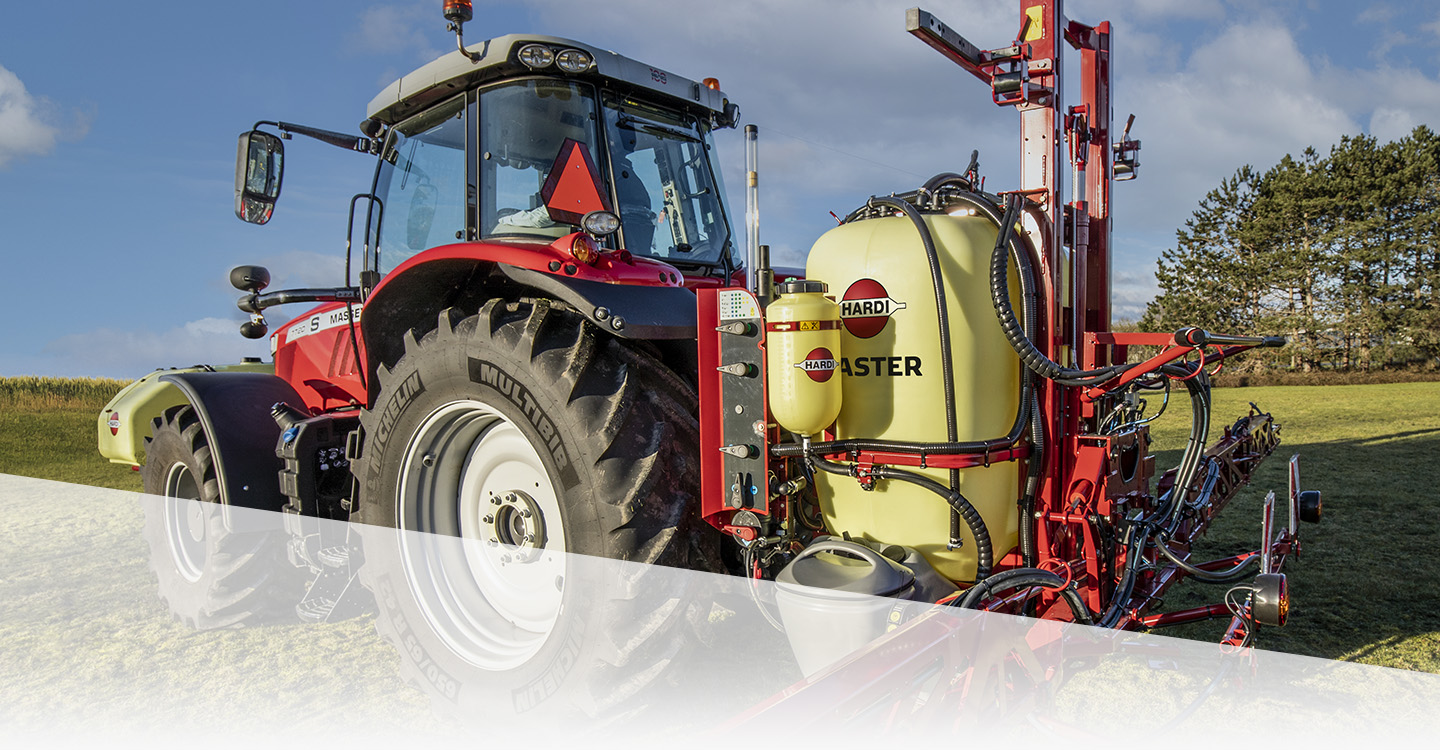 Tank Capacity
1000 / 1200 / 1500 / 1800 l
Boom Types
PRO, HYS, HYS AIR STREAM
Master of performance
The MASTER is a popular choice for professional farmers looking for an economic lift-mounted sprayer. Several upgrades have led to the current version – a reliable, robust lift-mounted sprayer.
Tried, tested and trusted, the MASTER is particularly suitable for farms with smaller or irregularly shaped fields.
From its integrated QuickHitch for easy and safe tractor coupling to its centrally located and logically designed MANIFOLD with all fluid functions within easy reach, the MASTER is easy to operate and service.
A slim tank design and compactly folded booms ensure optimal weight distribution and tractor stability during spraying and road transport.
The MASTER is the only lift-mounted sprayer available with an air-assistance boom system for better drift control.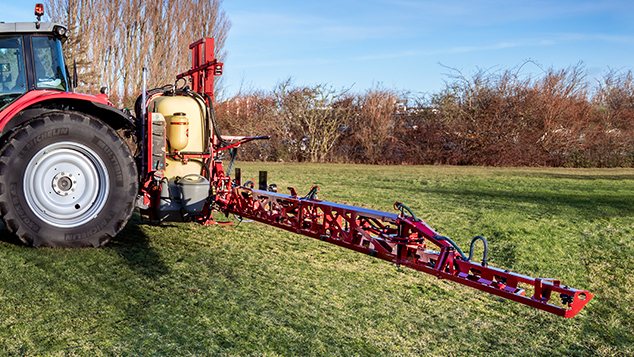 PRO boom
Strong, simple and steady
The PRO series will suit farmers looking for a regular but high-performing boom. An integrated lattice steel structure offers strength and rigidity for steady boom movement and application precision, even in challenging terrain. This hydraulic boom is easy to operate and requires little maintenance. Trapeze suspension increases lifespan and boom stability.
Regular hydraulics
The PRO boom is available in two models – a standard VHY model driven by tractor hydraulics and an upgraded VHZ model operated by electro-hydraulics, directly controlled via a compact panel in the tractor cabin.
The VHY boom offers boom lift, fold and optional slant, to which the VHZ model adds several extra functions such as folding of a single boom arm or sections as well as tilting of either boom arm.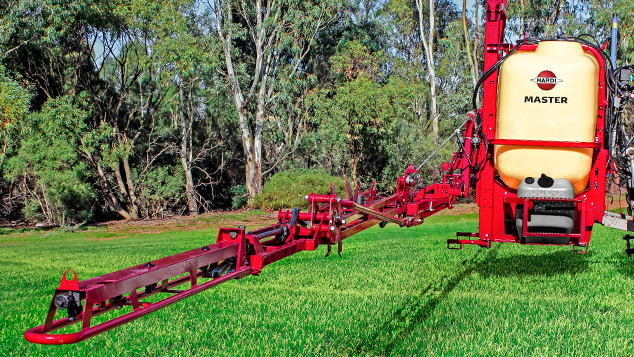 HYS boom
Flexible, light and compact
The HYS series is for farmers seeking boom adaptability. With fast, on-the-go fold of boom, arm or outer sections, this hydraulic boom with trapeze suspension will please farmers with irregular or challenging fields, paddocks, terrains or obstacles. It is a light but robust boom, which is easy to operate and requires little maintenance.
All models offer folding
The HYS boom is available in two versions – a standard HYS version driven by tractor hydraulics and an upgraded HYSZ version operated by electro-hydraulics, controlled directly from the tractor cabin using a compact panel. Both models offer boom lift, flexible fold/tilt and optional slant.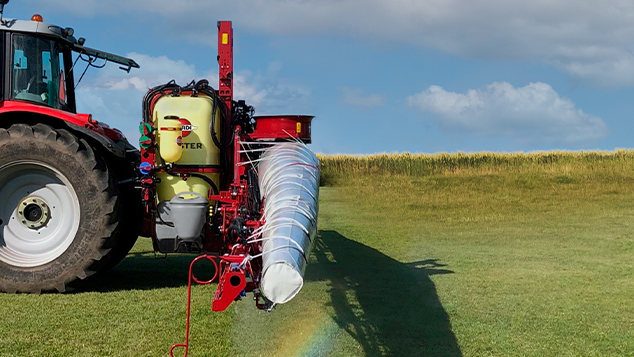 HYS AIR STREAM
Control drift with air
The HYS AIR STREAM boom is fitted with a blower unit and an inflatable air bag running the length of the boom. The air exits the bag through openings along its underside, creating forward-angled air streams, which hit the spray before it reaches the crop. The air distribution along the bag is very even, creating a curtain-like airflow that focuses the spray onto the crop.
The HYS AIR STREAM is available in two versions – a standard HYS driven by tractor hydraulics and an upgraded HYSZ operated by electro-hydraulics directly from the tractor cabin.
Both models offer boom lift, optional slant and flexible fold/tilt of the entire boom, one arm or outer sections – with or without air – for easy passage of obstacles in the field.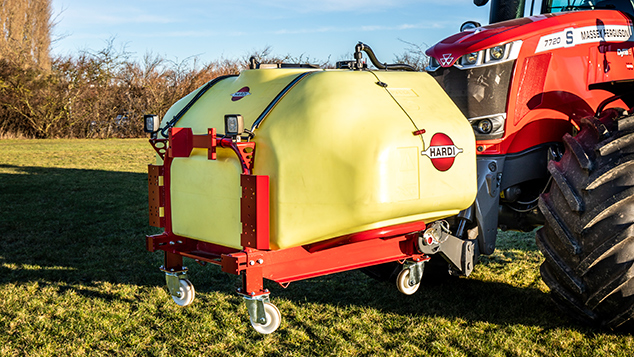 FrontTank
Larger capacity
The HARDI FrontTank will increase your spray capacity without jeopardising the tractor's weight distribution, balance and manoeuvrability – especially suitable for hilly terrain or smaller fields.
The FrontTank can be used as a simple counterweight or to give you more flexibility in your spray jobs – either as extra water supply for larger spray jobs or as a second chemical tank independent from or combined with the main tank.
The optional 1200 l FrontTank is made of high impact polyethylene. It comes as a kit, complete with a category 2-linked frame and a 135 l RinseTank. The dry level indicator on top of the tank is easily visible from the cabin, and an optional Agitation Pump Kit enables continuous agitation and cleaning of the FrontTank.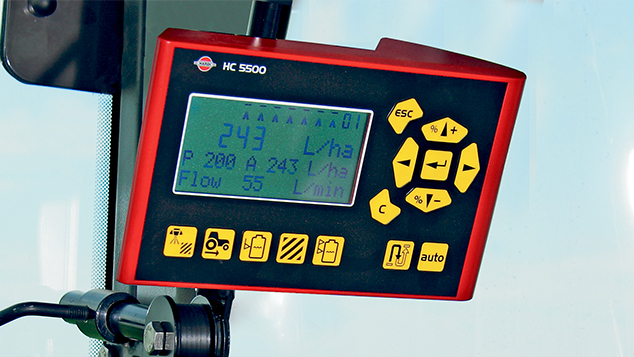 Controllers
HC 5500 – Automatic control
The trusted HC 5500 computer literally puts you in the driver's seat. This electronic controller is an optional add-on to the Spray box to enhance the MASTER's liquid system. Powerful yet simple to operate, it offers precise application control – saving time and effort by providing the farmer with continuous updates on a spray job. With its LogicMenu, bright display and 98 trip registers, the HC 5500 keeps track of all relevant spray parameters, sounding a warning at changes in spray pressure, speed or other parameters. Application rate can be easily adjusted on the go, especially valuable for the changing canopy conditions in orchards and vineyards.
Registers and other data can be transferred to external devices, and the HC 5500 is prepared for communication with precision tools such as guidance mapping and remote sensors.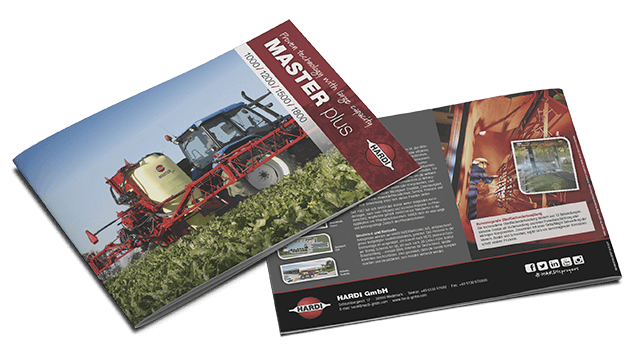 Get the MASTER brochure
See all the information about the MASTER including full specifications, in-depth information and much more!
Download your MASTER brochure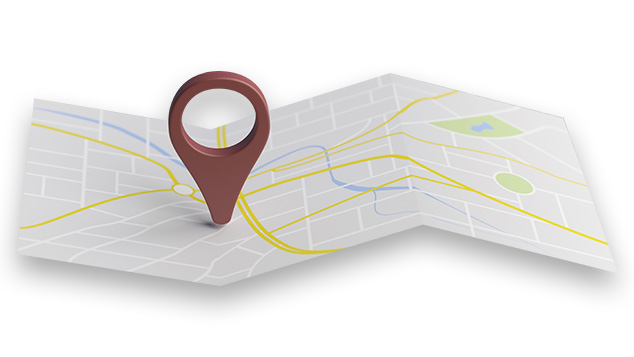 Your local HARDI dealer
HARDI Dealer network of more than 1500 locations around the world ensures quality, service and spareparts to farmers in more than 100 countries.
Find your local HARDI Dealer
Specifications
| Tank size (net/gross) | – | 1000 (1100) | 1200 (1320) | 1500 (1600) | 1800 (1895) |
| --- | --- | --- | --- | --- | --- |
| Pump 364 (194 l/min) | – | · | · | · | · |
| Weight, kg | – | Weight, kg | Weight, kg | Weight, kg | Weight, kg |
| PRO 12 m - 12.5 m | – | 922 | 955 | 1077 | 1089 |
| PRO 15 m | – | 979 | 1012 | 1134 | 1146 |
| PRO 18 m | – | 1037 | 1070 | 1192 | 1204 |
| HYS 12 m | – | 773 | 806 | 928 | 940 |
| HYS 15 m | – | 882 | 915 | 1037 | 1049 |
| HYS 18 m | – | 926 | 959 | 1081 | 1093 |
| TWIN STREAM 12 m | – | 933 | 966 | – | – |
| TWIN STREAM 15 m | – | 1022 | 1055 | – | – |
| Measurements, cm | D | A x B x C | A x B x C | A x B x C | A x B x C |
| PRO 12 m - 12.5 | 225 | 153x253x271 | 166x253x271 | 183x253x271 | 183x253x271 |
| PRO 15 m | 225 | 153x253x271 | 166x253x271 | 183x253x271 | 183x253x271 |
| PRO 18 m | 225 | 153x253x296 | 166x253x296 | 183x253x298 | 183x253x298 |
| HYS 12 m | 235 | 155x253x271 | 166x253x271 | 183x253x271 | 183x253x271 |
| HYS 15 m | 245 | 155x253x271 | 166x253x271 | 183x253x271 | 183x253x271 |
| HYS 18 m | 255 | 155x255x315 | 166x255x315 | 183x255x315 | 183x255x315 |
| TWIN STREAM 12 m | 260 | 190x260x271 | 203x260x271 | – | – |
| TWIN STREAM 15 m | 260 | 190x260x348 | 203x260x271 | – | – |
A = Total length in cm
B = Maximum transport width in cm
C = Total height in cm
D = Transport width boom in cm
Get access to our brochures
by filling out the form below